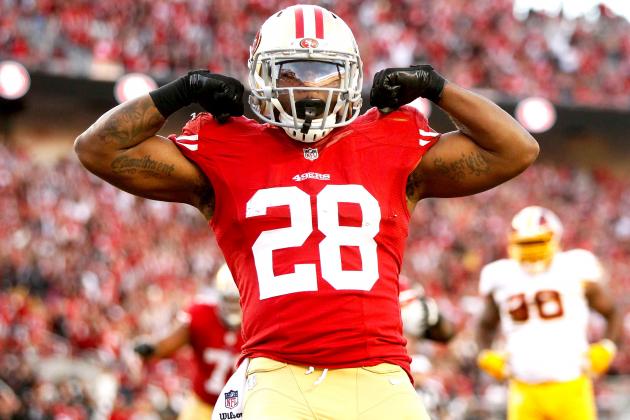 Trusting Carlos Hyde (and Chip Kelly?)
I know what you're thinking, you tried this last year and it hurt all season long. Hyde couldn't get healthy and Chip Kelly ruined DeMarco Murray. So why in the world would you take a chance on these two time bombs together? Just for that reason: no one else will. There's a chance for some extreme value to be had here.
Carlos Hyde is an incredibly talented runner. Just take a look at Game 1 last season and see for yourself. The problem was that he was A). the only option last year on offense and B). he was hurt. Not exactly a great combo for fantasy gold. But 2016 is another year. Now that everyone will be passing on him, you can snag him in the late rounds and watch him carry your team to victory week in and week out.
What about Chip? He's going to be back with a vengeance. This is his last shot in the NFL and you're crazy if you think he's going down without a fight. He's going to put out a productive offense if it kills him and Hyde is going to be the engine that makes it go. Kelly has always been great at running the ball (see Oregon) and I have no doubt that he and Carlos Hyde can team up for a breakout year.
Reasons to be believe: 
Offensive System
In 2015, the second-fastest team in the league played 4.6 seconds slower than Kelly's Eagles, and the NFL average over the last three seasons was 7.6 seconds slower. To the casual fan 7.6 seconds may not seem significant, but over an entire game or season, this has a huge impact on a team's volume.
Volume correlates more positively towards fantasy points than any efficiency metric for the running back position. Pace can severely inflate attempts in both rush attempts and targets, which can help negate inefficiency. The Eagles have ranked in the top-two in total plays in each of the last two seasons Chip Kelly was there.
Can Hyde earn his new coach's trust? Let's take a look at his 2015 Rushing Expectation sample to see if he is worthy of being Kelly's lead back: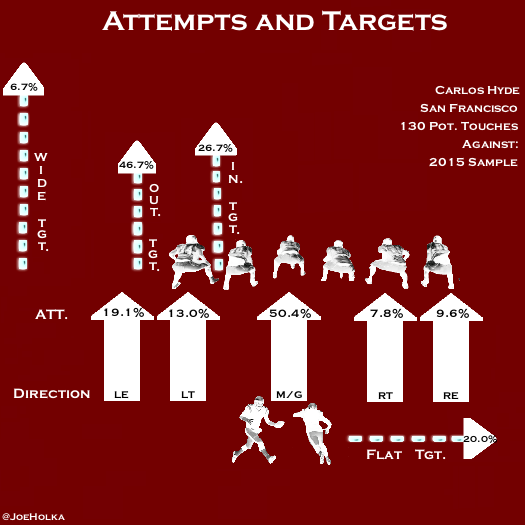 Hyde shows an immense amount of potential as a feature back from a talent perspective. From an efficiency, or metrics, perspective, the question is, did Hyde exceed or fall below expectations in 2015, and does he deserve the feature back role?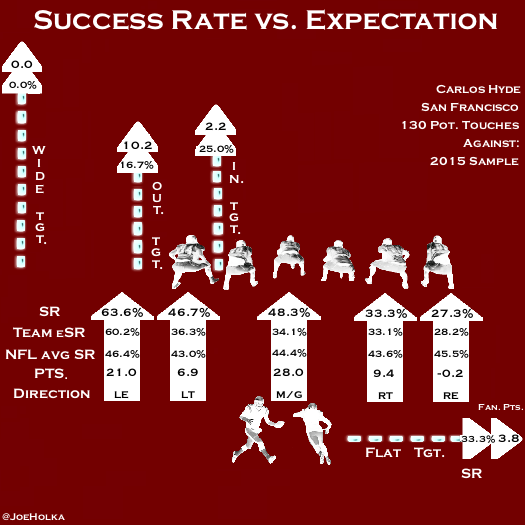 It's quite clear that even behind arguably the worst run blocking in the league, Hyde's efficiency numbers were exemplary. Let's check Hyde's overall Rushing Expectation results to see if there is something beneath the surface we can explain through film evaluation.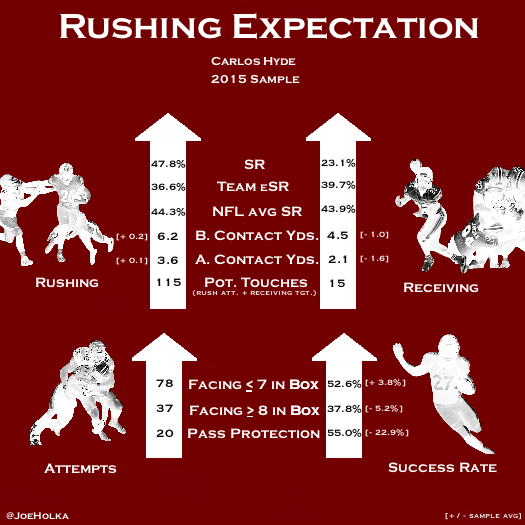 Talent
Hyde runs with a full head of steam like a freight train; that much was evident last season. As noted earlier, however, he does need some work on hitting the hole with more decisiveness when it's not as wide open. He supposedly came into OTAs at 220 lbs after playing last season at 235 lbs. 220 gives him enough bulk to remain powerful but may help him hit the hole and get the engine running a little bit quicker. If he can keep his weight down, and whether that has a sizable impact or not, remains to be seen. Just take a look at his yards per carry last year (http://www.espn.com/nfl/player/stats/_/id/16777/carlos-hyde), at 4.1 yards per carry Hyde was pretty decent the the train wreck that the 49ers were last season, that should only go up in Chip Kellys system.
Part of the talent and ability of this young stud is to turn a negative play into a positive one. For example look back at this play against the Washington Redskins. Hit more than two yards behind the line of scrimmage by Redskins edge defender Ryan Kerrigan, Hyde managed to bounce off Kerrigan, use his hand to push off and cut back across defensive lineman Jason Hatcher and then barge forward for a five-yard gain.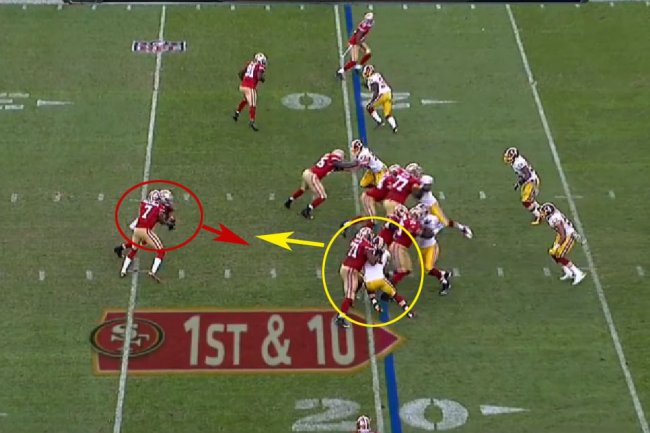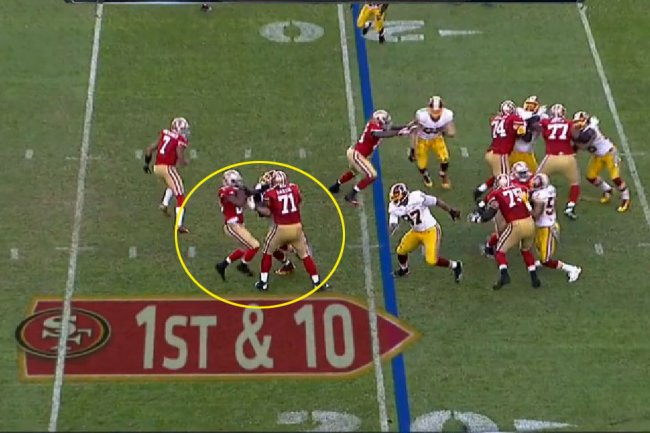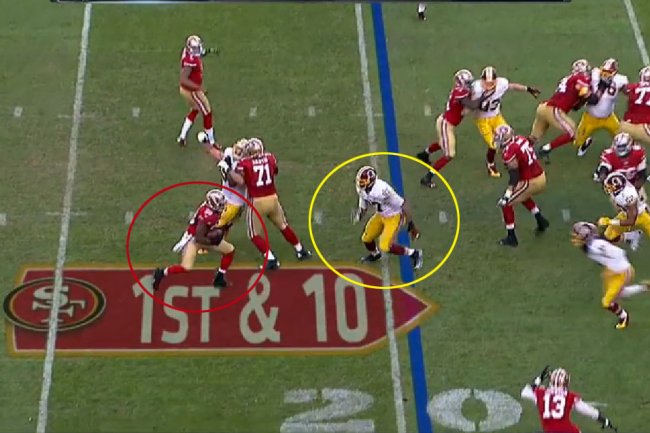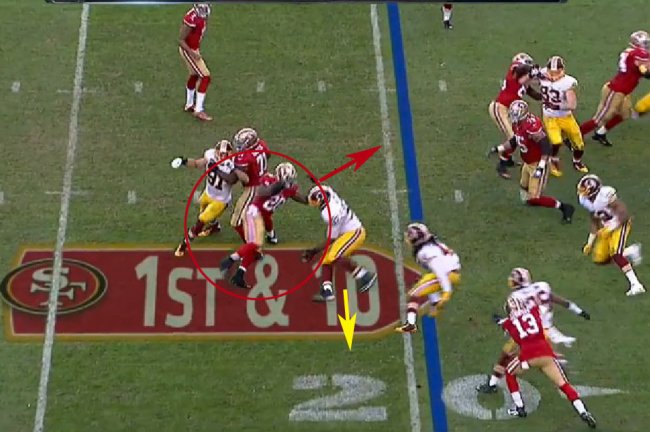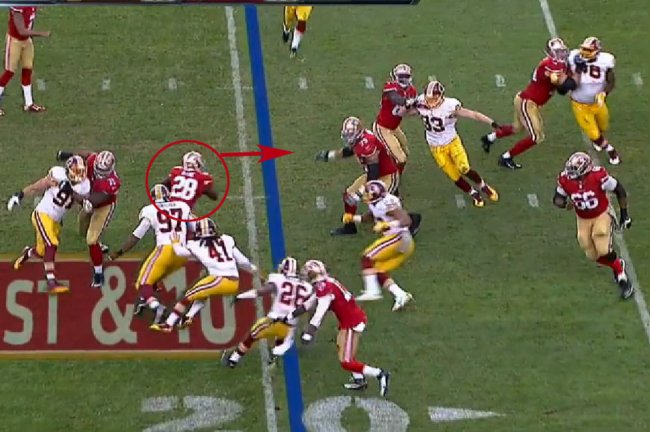 Backfield Competition
There really is none here, Shaun Draughn and DuHuan Harris are the back ups to Hyde. And while Draughn will get a few catches here and there he is no where close to the talent Carlos Hyde is.
More to know about Carlos Hyde:
On Instagram – he's @el_guapo1
San Francisco 49ers
"He's a big, physical 'back who should be fun to work with." -Chip Kelly on @elguapo